BANG Couture makes its entrance with a BANG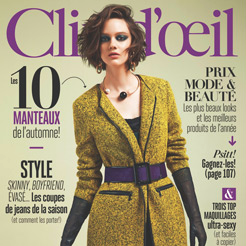 Bang couture makes its entrance with a resounding BANG! You might have seen one of our coats pictured on newsstands this month. That's right; we're on Québec's most popular fashion magazines!
This month, the work of Quebec's hottest new coat designer Lida Eisenbruk, got coverage in three major publications, which is no small feat. We're proud to announce that the magazines Clin d'œil , LOU LOU (130 000 copies in circulation) and Coup de Pouce (520 000 copies in circulation) have covered our outstanding coats. 
The best news come first….
Indeed, our Petra yellow tweed coat with black leather and zipper contrast has been selected out of many competitors in the fall / winter coat market segment, and that it got third place out of 10 for most fashionable autumn coat in Clin d'œil. The lovely Rachel MacKnight is also wearing our coat on page 62, so make sure to pick up this month's issue. 
Ready for a new look?
LOU LOU magazine featured our Mila long wool contrast collar coat on the main outerwear page of top its 50 coats. It's the best looking one, the black and white tweed with contrast zipper J pocket and detachable real Rabit collar with warm kasha lining.
Last but not least
Coup de Pouce featured our Tammy perfect three-season coat
in its top 30 coats. This new concept city coat is available in Black and Eggplant.The cold season is coming, and you need to face it in style. Fortunately, hailing from Montreal, Canada BANG Couture knows cold
AND
style. Check us out.